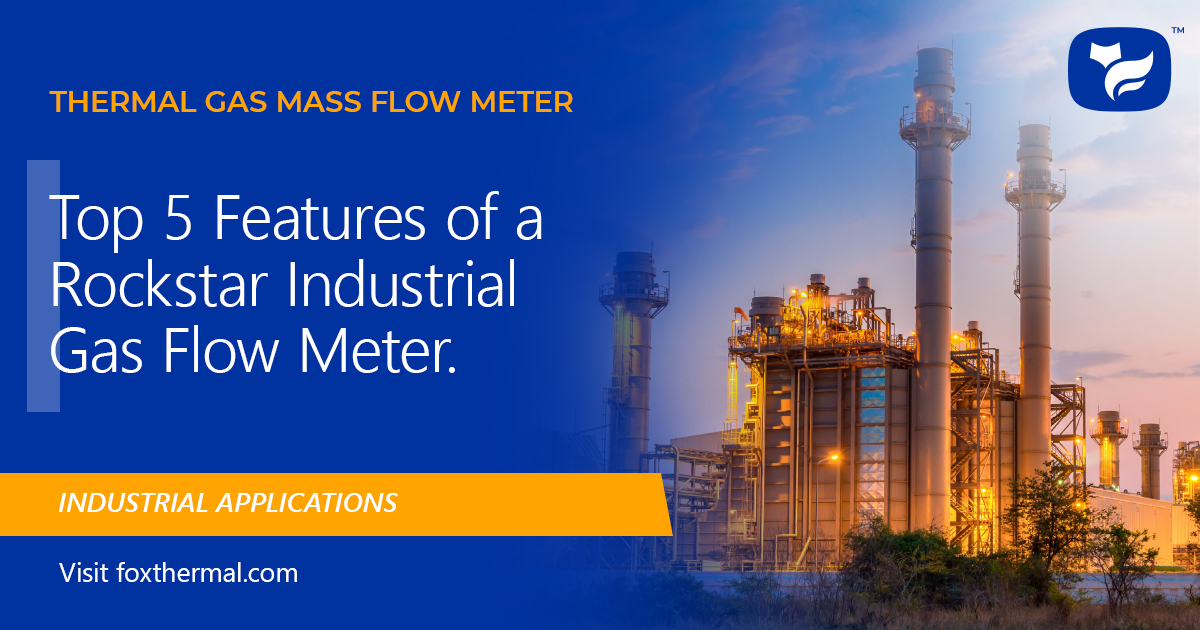 Common Results of Gas Uses in Industrial Processes
There are three key results of measuring the flow of air or gases with industrial gas flow meters in industrial applications:
efficiency improvement
leak reduction
increased product quality
Flow Measurement vs Total System Upgrades/Audits
Every facility is looking for ways to improve process efficiencies and reduce process gas leaks while saving money on costs from energy or fuel usage, but how do you go about the process of actually doing it? Rather than buy new equipment or go through costly and time-consuming full system audits, operators have long sought out accurate flow meters to measure and monitor the process gas flow to find where losses occur and where consumption is too high/low. Here are some of the ways gas flow meters are used in industrial applications to improve efficiency or reduce leaks:
Monitoring the flow of fuel to burners or other process equipment. This is generally natural gas.
Monitoring the flow of combustion air to burners in process heating equipment.
Monitoring the flow of compressed air in compressed air systems.
Monitoring the flow of specialty gases in industrial processes like nitrogen or oxygen flow.
Key Industries for Gas Flow Measurement Applications
There are other examples of common industrial applications where flow meters help. For the purposes of this blog, let's highlight 6 key industries that require them:
Aluminum & Steel Production
Chemical Manufacturing
Petrochemical
Pulp & Paper
Glass & Ceramics manufacturing
Food & Beverage
Examples of Common Gases Used in Key Industries
There are thousands of uses for gases in industrial applications, but we will highlight some common uses in the 6 key industries covered in this blog.
First, let's take a look at aluminum & steel production. The common gas types used here are oxygen, nitrogen, and natural gas. Oxygen is used to remove excess carbon during iron & steel production. This process improves the quality of the metal and makes it less brittle. Nitrogen is used to purify aluminum for effective annealing. The nitrogen ensures that oxidization of the surface of the aluminum does not occur. It can also prevent staining, so that the quality of metal produced is higher. Another common gas used in this industry is natural gas. It is used as fuel to kilns, thermal oxidizers, and other process equipment.
Secondly, let's discuss the chemical manufacturing industry and the common gases that require flow measurement devices. Some common gas types used there are nitrogen and natural gas. Nitrogen is ideal for inerting applications in the chemical industry like blanketing of production processes to prevent fire and explosion and avoid oxidation. Purging is another great use of nitrogen. Natural gas is again used in thermal oxidizers for the destruction of waste gas from chemical production.
Thirdly, the petrochemical industry commonly uses oxygen and hydrogen. Oxygen enrichment of combustion air for fired heaters used in conjunction with boilers connected to fluid catalytic cracking units (FCCU) is a common practice. FCCUs are used to refine or distill crude oil into valuable products like gasoline. Oxygen is also key to the de-sulfurization processes that are critical to the refinement process. Heavy crude processing has increased the need for hydrogen used in hydrotreating processes necessary for the hydrocracking process, isomerization, alkylation, and tail gas treatment.
The fourth industry, pulp & paper, requires flow measurement for carbon dioxide, oxygen, and natural gas. Carbon dioxide is used to control pH levels and wash bleached stock while oxygen is used for oxidative extraction and delignification. Natural gas is also used to fuel boilers for steam production and thermal oxidizers to process waste gas.
Next, like many of the other industries mentioned before, glass & ceramics manufacturing uses natural gas as fuel for kilns and furnaces.
Lastly, the food & beverage industry has two gases that are commonly used: carbon dioxide and natural gas. Carbon dioxide is used in several processes like carbonating beverages, cooling processes, chilling, and freezing. Drying processes require natural gas to fuel the dryers, as well.
Flow Meter Performance
We get it. Facility Managers are busy and are under pressure to maintain a steady, quality output. They just want things to work. System performance uncertainties or failures can throw a wrench in the process and may lead to shutdowns that hurt the bottom line. Inaccurate or overly complex instrumentation tied to the process can lead to low quality output, system stress, or failures. Furthermore, instrumentation that requires frequent maintenance or re-calibrations interrupts the process and causes shutdowns. Therefore, it's critical that they choose a reliable flow measurement technology to avoid downtime and keep the process running. They need rockstar flow meters!
5 Features that Make a Rockstar Industrial Gas Flow Meter
Rockstar Feature # 1 – Easy to install and easy to use
No one likes complications and neither does your facility manager. Get a flow meter that is easy to install, does not require a lot of maintenance, and will not require further calculations. Also make sure that the flow meter can easily communicate with your DCS, PLC, or control system. Also, knowing the flow meter has the right approvals for use in hazardous areas – when necessary – is not just peace of mind, but also a requirement!
Rockstar Feature # 2 – High accuracy
Who knows what is going on in the pipes? That is why you need a measurement device to accurately measure the flow in the pipes and to give you a window into your process. Have high expectations for the accuracy across the range of operation for the process whether it is high or low flow rates.
Rockstar Feature # 3 – Field flexibility
Sick of downtime caused by flow meters with no flexibility that require a return authorization to the manufacturer's factory for adjustment or re-calibration? Choose a full-featured flow technology that allows the user to adjust settings or verify accuracy in the field. These flow meters will ensure that you remain in control of your process and avoid process downtime.
Rockstar Feature # 4 – Cost effective
Do your research and get multiple quotes. Some technologies offer the stars, but the cost may be a deal breaker.
Rockstar Feature # 5 – Reliability
Choose a flow meter technology that can reliably measure flow over time without a lot of fuss. The bottom line is that you want to trust the measurement that your flow meter reads without having to do frequent maintenance or recalibration.
Benefits of Fox Thermal Flow Meters
What can you do to meet the challenges of industrial gas flow measurement applications?
Here are the benefits of Fox Thermal's Digital Difference and how we can help you make downtime a thing of the past:
Plug 'n' play

Easy to install and easy to use
Standard linear 4-20mA output proportional to mass flow rate
Standard communications options

Best-in-class accuracy at low and high flows, without the complication of additional calculations or auxiliary devices

Repeatability and exceptionally broad measurement range: up to 1000:1 (100:1 typical)
Direct mass flow measurement of air and gases in standard volumetric units (e.g., SCFM or NM3/H) or mass units (e.g., LBS/M or KG/H)
No additional pressure or temperature compensation required
Measures both flow rate and temperature

Field flexibility

Access meter settings with free FT View™ software to adjust configuration parameters, log data, perform simulations, and more
Gas selection menus on the Gas-SelectX® feature can be used to modify the gas or gas mixture settings. The flow meter will process the change with gas correlation algorithms without the need for a factory re-calibration.
Use calibration validation tests, like CAL-V™, to ensure that the meter still retains its original NIST-traceable calibration, you can even print a certificate when the test is performed using the FT View™ software!
Choose or change the units of measurement and avoid extra calculations

Low total cost of ownership

This is not just about the cost-effective price of the flow meter. This also includes maintenance costs, associated costs with installation/start-up, energy consumption, etc, over the life of the flow meter
No moving parts design for less maintenance
Cost-effective flow measurement solution

Reliability and repeatability

Fox Thermal flow meters have great repeatability specs and offer calibration validation so that you can verify – in the field – if the flow meter retains its NIST traceable calibration.