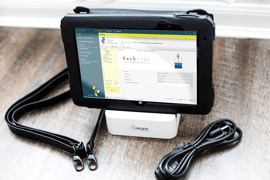 Introducing the TechStar FLEX – the latest in HART Communicators! While not the first on the market, the FLEX is the more cost-effective and FLEXible option available, providing a one-tool solution for your programming, troubleshooting and HART maintenance needs. Benefits of the TechStar Flex include:
Lower Cost of Ownership.
Unlimited HART & Software Updates
Open Platform Allowing For All of Your Process Programming & Calibration Tools In One
Hazardous Area Certified For Div 1
Double The Screen Size Compared To Leading Competitor
Run Multiple Applications & Have Drawings or Training Manuals Open Simultaneously
Complete Tasks Faster Leading To Less Service Call Outs/Outsourced Maintenance
$500 Discount When You Trade-In An Eligible HART Communicator
And Much More...
The TechStar Flex has all the components needed for process optimization for both supervisors and technicians. The days of needing multiple devices for communication & process optimization are over! Learn more about The TechStar FLEX & its capabilities from our Lead UNIT Technician, Joey Blair:
ADDED FLEXIBILITY TO YOUR HART COMMUNICATOR

Our Intrinsically Safe Tablet, The TechStar FLEX, is the most advanced, efficient, lightweight, and rugged tablet purpose-built for Class 1 / Division 1 hazardous areas on the market today. Simple to deploy, it is the basis for an IIoT platform for hazardous industries, allowing operations to easily begin their digital transformation & process optimization. View the TechStar FLEX data sheet to learn of all benefits:
BUY ONLINE | GET THE TECHSTAR FLEX SHIPPED OUT TODAY
One Click by TechStar brings a variety of our innovative industrial automation and process control solutions to our customers at the click of a button. Start communicating with your critical instrumentation by getting your TechStar FLEX with same-day shipping when you order on TechStar One Click. But now: