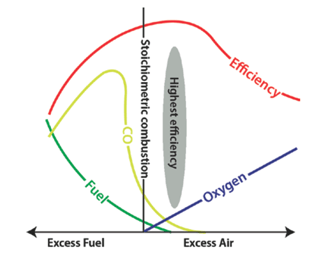 Optimizing boiler efficiency will increase your bottom line. Did you know that every 10% excess oxygen results in 1% in wasted fuel? With that in mind, Yokogawa Zirconia Oxygen analyzers have a 50-year proven success record for providing:
Fast, accurate, and reliable measurements

Simple integration into any process

Optimizing production, even in the harshest applications

Compiling with changing industry regulations

Discover how the latest Zirconia Oxygen Analyzer (ZR802G) delivers on recent advancements in sensor diagnostics while expanding communication options that support autonomous IIoT.
Contribute to OPEX reduction
Contributes to opex reduction, and continuously measures oxygen concentration and humidity under high temperature without the need for a sampling device.
This analyzer consists basically of a probe and a converter that are used as both a Zirconia Oxygen Analyzer and High Temperature Humidity Analyzer.
The ZR802G converter uses a digital display, displays the cell temperature and cell emf in addition to the oxygen concentration and includes a Human Machine Interface (HMI), that offers easy touch screen operation. This analyzer is most suitable for monitoring the oxygen concentration of combustion gases in large or small boilers, various industrial furnace and combustion devices, or for the control of low-oxygen combustion.
Separate type Zirconia High Temperature Humidity Analyzers are used to measure the humidity of hot gases continuously in driers which use an electrical heater or hot gas as the heat source. They can also be used in a variety of manufacturing applications in humidifiers, as well as in driers, for humidity measurement and control. They can help improve productivity in these application fields.
Learn More about the Yokogawa ZR22/ZR402