DPharp digital sensor uses two single crystal silicon resonators vibrating at their natural frequencies. When pressure is applied, one of the resonators goes into tension, while the other goes into compression mode. The CPU directly counts the sensor output frequencies without any additional A/D conversion. Due to the excellent elastic properties of silicon material, the DPharp sensor exhibits greater linearity and repeatability, with no inherent hysteresis. Resonant sensor also provides a large output signal resulting in greater sensitivity and higher turndown.
MULTI-SENSING
More really does mean less!
DPharp digital sensor has the unique ability to simultaneously measure static pressure and differential pressure. Additionally capsule and housing temperatures are also measured. Multi-sensing platform enables real-time dynamic compensation for unmatched precision and forms the basis for implementation of advanced diagnostics. These information are available through various digital communication protocols; providing additional insight into your process. Multi-sensing functionality with guaranteed accuracy of static pressure signal allows the process to operate with fewer devices delivering reduced lifecycle costs.
HIGH PERFORMANCE
Unconditional guarantee of long-term stability under complete range of operating conditions!
Long term, accurate and stable measurement in real world conditions is fundamental to realize reliable and efficient plant operation. Transmitters in the field are subjected to continuous variations of ambient and process temperature, static and overpressure conditions affecting the accuracy. Long term stability of the transmitter is a measure of performance drift and dependent on the sensor technology. Total accuracy and long term stability determine the recalibration interval for the devices according to the acceptable performance level.
SAFETY
IEC61508 Certified: Safety as Standard, Not an Option!
DPharp is an active pressure sensor, so even with no pressure applied the resonators oscillate at their natural frequencies. Two independent resonators are utilized. If either one or both fail, the transmitter diagnostics detects a capsule error. DPharp sensor is inherently fail-safe with no undiscovered failure modes. A patented reverse calculation algorithm validates internal measurements, calculations and detects any malfunction of the CPU. DPharp transmitters are capable of SIL2 single use and SIL3 redundant use, as standard. Same transmitter can be used in control and safety applications which reduces spares inventory and simplifies maintenance. Yokogawa transmitters have undergone complete assessment of hardware for SIL2 and development processes for SIL3 capability to IEC61508 safety standards.
FIELD DIGITAL SOLUTIONS
Maximize asset intelligence for operational excellence and reduced lifecycle costs!
Open your eyes to a world of new opportunities… Release the trapped intelligence in your field assets to get greater insight into your process. Yokogawa's Field Digital Solutions add new value to your instrumentation assets and plant operations by establishing a reliable digital communications infrastructure to effectively utilize the multi-sensing and advanced diagnostic capabilities offered by our intelligent devices. Yokogawa fully supports open standards like HART, FOUNDATION fieldbus, Profibus, ISA100 Wireless* and enabling technologies like FDT/DTM, EDDL to fully ensure customer's freedom of choice by proven and tested interoperability with process automation and asset management systems.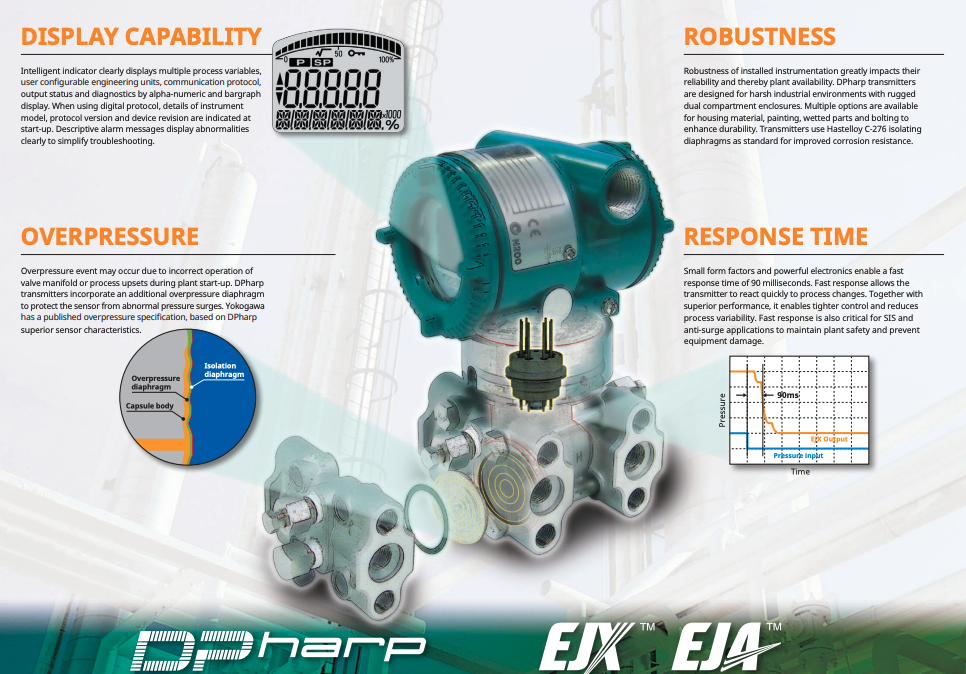 With improved digital performance, measurement accuracy, and overpressure protection, DPharp pressure transmitters contribute to enhanced product quality. Discover the benefits of TechStar Pressure Solutions.