Written & issued by Michell Instruments Ltd.
Telephone: 01353 658 000. Fax: 01353 658 199.
Email: uk.info@michell.com
Independent report confirms excellent measurement performance of Michell's OptiPEAK TDL600 process moisture analyzer
A new report undertaken by DBI Gas- und Umwelttechnik in Leipzig has demonstrated that the OptiPEAK TDL600 from Michell Instruments offers stable, accurate and repeatable measurements of moisture in natural gas and is not affected by changes in background composition.
A total of 16 different experiments were carried out to test the TDL600's capabilities in a range of background gas compositions, comprising energy-rich H-group natural gas as well as pure methane. The evaluation involved different target levels of moisture together and further testing to determine any influence from the addition of associated gas components; Hydrogen, hydrogen-sulphide and methanol. Test conditions for the OptiPEAK TDL600 closely mimicked varying process operating scenarios in gas processing and pipeline transmission.
The report's author, Dr Rico Rockmann, commented that, 'Overall the Michell OptiPEAK TDL600 displays very stable values, without outliers or incorrect measurements.'
You can request a full copy of this report here.
The OptiPEAK TDL600 uses the latest generation of tuneable diode laser spectroscopy sensors to detect trace moisture in natural gas, down to 1 ppmV. Because it uses a non-contact sensing technology is it resistant to contamination and produces fast, reliable results in challenging applications such as changing methane concentrations and sour gas.
It has global hazardous area certifications and is available with a range of sampling options.
Product Information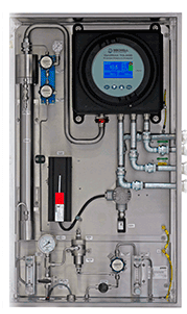 The next generation TDLAS Analyzer for automatic online measurement of moisture in variable compositions of natural gas and biomethane. The OptiPEAK TDL600 Tuneable Diode Laser Analyzer employs the latest techniques in laser absorption spectroscopy and signal processing power to offer a robust high performance analyzer, designed specifically for the measurement of moisture in natural gas. This non-contact technology requires minimal maintenance, even in demanding applications such as changing methane concentrations or sour gas. The analyzer is fully hazardous area certified and delivers class-leading measurement performance, stability and detection sensitivity.
Suitable for use with natural gas containing up to 20% hydrogen with no further modification required.
Product Features
D-MET system: Factory-ready for varying gas compositions. For example, after stream blending or injection of shale gas or biomethane to a network.
Operating range down to 1 ppm

V

Sour gas compatible
Simple installation and setup
Lowest maintenance
IECEx, ATEX and cQPSus certified for EExd flameproof
Integrated sample handling
Proven Michell Instruments quality: 40 years of expertise in moisture measurement built into the design